C-cure Systems are a premium grade service provider that cater directly for the quality conscious home owner and body corporate services.
 Residential services at a glance:
 C-cure Systems is a premium grade service provider. Predominantly well known for its reputation in the commercial and corporate sectors.
Our residential services were put forward to provide the astute home owner an alternative in the market place for a quality outcome.
Our companies' sole objective is the intention of offering higher quality equipment and being able to deliver a higher level of customer support. We don't enter price wars with our competition and do not concern ourselves with price matching. We stand to offer our brand of service above that of the general market place and cater to those seeking an alternative.
Residential services in detail:
Key residential services:
Alarm systems
Back to Base Alarm monitoring (Contract free)
CCTV systems with smart phone viewing
Intercoms
Data cabling and Networking set up
WIFI extenders
Access Control
Smoke Detection
The difference is in the fine detail. We only use higher quality heavier gauge cabling. We seek only time proven equipment and brands. These measures come at an increase expense but with proven performance and reliability. We allow extra time to ensure your equipment is installed in a professional and neat manner and we stand behind our warranty terms.
Our residential services are directly designed only for those seeking a higher quality solution, supplied and installed by a professional company that has been operating for over 20 years.
Installation and Servicing most major brands, such as Bosch Solution.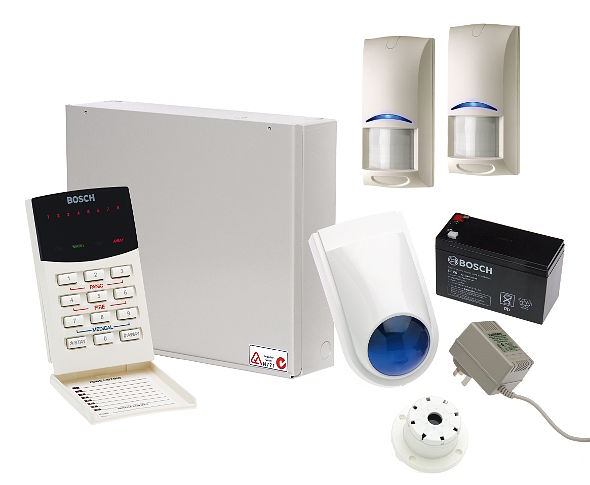 C-cure Alarm systems: The most effective method of protecting your home and your family is a simple, low cost, reliable security system. A straight forward product that is easy to use can provide you with the peace of mind knowing your family are walking in to your home that is as safe and secure as when you left.
We believe if you can limit the time an intruder has you limit the crime, which is why an Alarm system can provide so many benefits.
Not all systems are equal and its easy to fall in to glossy brochures and no up front cost systems. C-cure only use proven reliable brands such as Bosch Solution alarm panels with items such as Quad PIRs or Dual technoligy sensors to provide you with a smarter investment option that is designed to perform for many years outside of the warranty term.
Alarm systems can be monitored via back to base alarm monitoring or programmed for self monitoring by calling your mobile phone.
With C-cure you purchase the equipment outright and we wont sign you up to time base contracts like most other companies should you want back to base Alarm monitoring.
All our systems exceed the Australian standards and comply with major insurance policy's which in some cases can help lower your premiums. You should always consult your insurance company to confirm and become aware of their requirements.
C-cure home CCTV camera surveillance systems: Be aware not all CCTV systems are created equal.  The market is flooded with low cost DIY kits and these offer no comparison to the professional grade equipment. The key is choosing sensible equipment that will provide high quality images under all conditions and with the expectation that it will keep performing well out of the warranty.
As a minimum our equipment is entry level commercial grade. A minimum of 1080P HD at no less than 2MP.
Once again we believe keep it simple. A basic system with a week of recording back up is generally enough. IP or HDCVI Day night cameras of at least 3 MP recording at no less than 1080 P HD will provide outstanding image quality. You can also remotely view your cameras via your smart phone or tablet. Not only do CCTV cameras provide another level of deterrent, they can aid in obtaining a conviction against the offenders. Police have little means to pursue criminals without added evidence such as CCTV footage.
We have selected a range of value for money products to sit along site our high-end commercial quality range that we expect to perform for many years during and outside of the warranty period providing you with a smarter investment choice and added reliability for your home usually for only marginal added cost over lower end budget grade systems. C-cure only use premium grade hard drives in all DVR's and NVRs and also recommend the use of a UPS to provide surge protection.
C-cure Back to base ALARM MONITORING, is a pure performance driven service. There are no lock in time based contracts. No hidden fees or catches. You own your equipment outright and have access to all the programming codes from handover. Many extras such as emailed weekly reports are included as standard in our monitoring package. Your procedures are followed on alarm events and you have the option for the monitoring room to send a patrol for an alarm response only if you choose.  All our home alarm systems can also be set up to dial your mobile phone if you're generally close enough to attend an alarm event yourself. C-cure also have a range of 3 and 4G GPRS options should you not have a standard PSTN phone line or require a higher level of security. Most older systems will not work on NBN lines so ensure you take action before your home is swamped over to NBN.
Data, Networking, WIFI and phone points: We provide all aspects of Data cabling, smart wiring and Network set up. Its often hard to find someone who can install the cabling for the data point and then help you get the device configured on to your network. C-cure have certified data cabers and network technicians that can provide this service to you. C-cure can also set up extended range WIFI for your home.
Smoke Detection: Smoke detectors are excellent at providing notification of a fire while your home but how would you know about one if you weren't. Hard wired commercial grade smoke detectors connected to your alarm system can provide instant notification of a possible fire or smoke allowing you to responded to the event straight away.
If your serious about protecting your home and family and are seeking a higher quality option then it would be our pleasure to offer a free no pressure security assessment and quotation.
Please feel free to contact us if you need any more information. We eagerly look forward to being able to provide you with our services and look forward to working together.